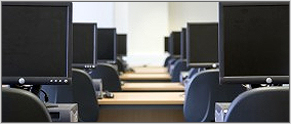 Quadrant Technology, LLC currently provides computer and workstation repair, service, and upgrade for desktops, laptops, and most servers. We service all versions of Microsoft Windows operating systems. Our A+ Certified technicians are capable of repairing anything from a broken laptop screen, dead hard drives, virus and malware issues, all the way to advanced server and networking issues. It may sound cliché to say no job is too big or too small, but this is the reality of the way our company operates. If it involves technology, our vast industry experience allows us to quickly pinpoint and resolve the problem. For more information on services and pricing, please contact our office at 850-279-4633.
Quadrant Technology staff are trained in:
All versions of Microsoft Windows
Microsoft Office 2003/2007/2010/2013 Applications
Adobe Photoshop, Flash, Illustrator, Dreamweaver, Acrobat

QuickBooks, Quicken, Peachtree Accounting
Various Antivirus and Antimalware Applications
A wide variety of vendor hardware and software products.
Quadrant Benefits:
On-site response in as little as 2 hours
Electronic Fault Notification, immediately alerts you of a problem (requires monthly monitoring fee and applicable setup costs)
Single Point of Contact for all your needs
A+ Certified technicians
Well trained and knowledgeable staff
Over 16 years of workstation and network experience
Workstation repair labor is billed at a rate of $85.00 per hour. A $25 tree fee is required for on-site service. On-site service includes: software/hardware troubleshooting & repair, training, consultation, networking, systems-integration, server-administration, etc. Some hardware repairs are not practical to do on-site. If the process of the repair is considered dangerous, or would require equipment not available for on-site use, we then recommend pick-up & delivery service.