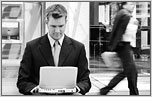 Thank you for choosing Quadrant Technology, LLC as your solutions provider. We know there are many companies to choose from and we are proud to have you as a client. Our commitment to you is that you will have a rewarding and fulfilling relationship with our company. We are vastly improving the way Information Technology services are offered. You will find that our commitment to customer service, reliability and quality are unparalleled.

Welcome to the Client Support and Information Center. This guide aims to assist you with Quadrant Technology, LLC services and technical support issues that you may have. If you have any suggestions please email them to suggestions@quadtechllc.net.

Email Configuration Settings:

Email (electronic mail) is what allows you to send and receive messages over the Internet. The power of every e-mail program varies, but the underlying jobs are still the same: compose, send, and retrieve. For your convenience, we have provided several basic walkthroughs for some of the more common e-mail programs.
Outlook 2003 Tutorial
Outlook 2007 Tutorial
Outlook 2010 Tutorial
Windows 7 Mail Tutorial
Outlook Express Tutorial
Most email problems can be resolved by following our step-by-step tutorials. If you are still having problems with email or do not see your email client listed above, please contact our office at 706.323.4611 or fill out our Customer Support Request Form. A member of our staff will contact you to provide prompt and courteous service.